Home > Emsculpt NEO in Concord, NC
Emsculpt NEO and Body Sculpting and Contouring
in Concord, NC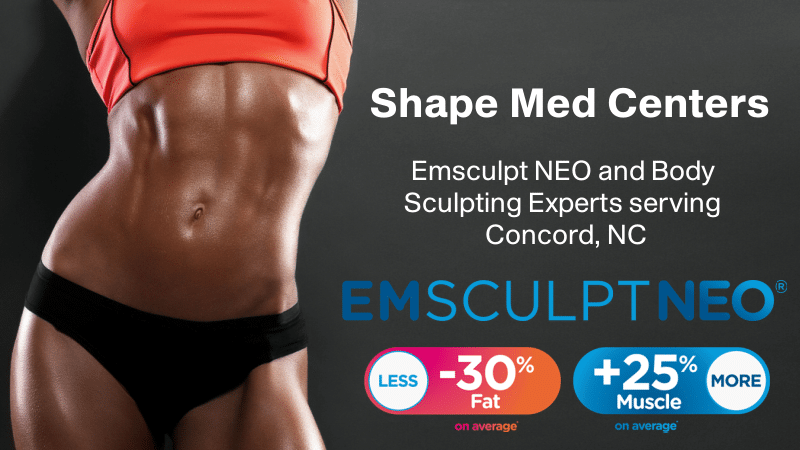 Buy 3 Sessions, Get 1 FREE! This Month Only!
Welcome to Shape Med Centers, your trusted destination for Emsculpt NEO and body sculpting and contouring in Concord, NC. If you've been dreaming of a more sculpted and toned physique, Emsculpt NEO non-invasive treatments are the answer.
Why Choose Emsculpt NEO at Shape Med Centers?
When it comes to achieving your ideal body shape, Emsculpt NEO at Shape Med Centers offers unmatched benefits:
1. Non-Invasive Excellence:
Emsculpt NEO is a non-invasive treatment, eliminating the need for surgery or recovery time. You can enhance your body without incisions or downtime.
2.  Muscle Building and Fat Reduction:
This revolutionary technology not only builds muscle but also reduces fat, giving you a double benefit for a more sculpted appearance.
3.  Quick and Convenient:
Emsculpt NEO sessions are quick and convenient, easily fitting into your busy schedule.
4.  Personalized Approach:
Our expert team at Shape Med Centers customizes every treatment to your unique body and goals, ensuring the best possible results.
Experience the Future of Body Contouring in Concord, NC with Emsculpt NEO at Shape Med Centers
Ready to take the next step toward your dream body? Contact Shape Med Centers in Concord, NC, today to schedule your Emsculpt NEO consultation. Our expert team is here to help you achieve the body you've always wanted.
Directions to Emsculpt NEO near Concord
Shape Med Centers
7810 Ballantyne Commons Parkway, Suite 103
Charlotte, NC 28277
1-704-525-9772
Operating Hours
Mon – Fri, 9 am – 5 pm | Saturdays by Appt Only

Book Emsculpt NEO Concord
Request a FREE Consult with an Emsculpt NEO Tech and receive $1,000 Off.  Emsculpt NEO Treatment Package including Abs, Love Handles, Buttocks, Arms, Thighs and Calves!  Request an appointment or call us at (704) 525-9772