Home > Emsculpt NEO in Gastonia, NC
Your Trusted Emsculpt NEO Provider near Gastonia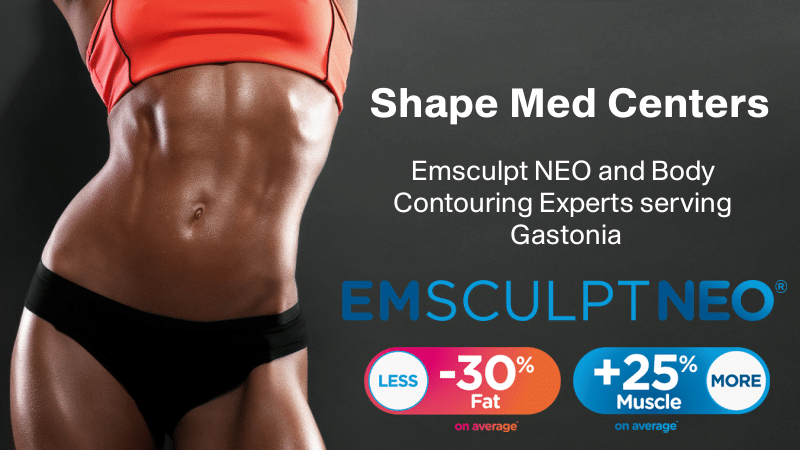 Buy 3 Sessions, Get 1 FREE! This Month Only!
Welcome to Shape Med Centers, the premier Emsculpt NEO provider near Gastonia. We are committed to helping individuals achieve their body goals through our advanced body contouring treatments. With our expertise and state-of-the-art technology, we deliver exceptional results that exceed expectations.
Transform Your Body with Emsculpt NEO Advanced Body Contouring Treatments
Emsculpt NEO is a cutting-edge non-invasive treatment that combines fat reduction and muscle building. Using advanced electromagnetic technology, Emsculpt NEO induces powerful muscle contractions, helping you achieve a more toned physique. Our highly skilled team of professionals customizes your treatment plan to target your specific concerns and optimize your results.
Why Choose Shape Med Centers for Emsculpt NEO near Gastonia?
At Shape Med Centers, your satisfaction and well-being are our top priorities. Our dedicated specialists have extensive experience in body contouring treatments and stay up-to-date with the latest advancements in the field. We take the time to understand your unique goals, providing personalized solutions tailored to your needs.
When you choose Shape Med Centers as your Emsculpt NEO provider near Gastonia, you can expect:
Expert guidance: Our experienced team of professionals will guide you through every step of your body contouring journey, ensuring you feel confident and informed.
Customized treatment plans: We offer personalized treatment plans based on your specific goals and concerns, targeting areas such as abdomen, buttocks, thighs, and arms.
State-of-the-art technology: Shape Med Centers is equipped with the latest Emsculpt NEO technology, ensuring safe and effective treatments for optimal results.
Comfortable and non-invasive procedures: Emsculpt NEO treatments are non-surgical, painless, and require no downtime. You can resume your daily activities immediately after each session.
Remarkable results: Our results-driven approach guarantees noticeable improvements in muscle tone and fat reduction, helping you achieve the body contours you desire.
Take the first step towards your body transformation today. Contact Shape Med Centers, the trusted Emsculpt NEO provider near Gastonia, to schedule a consultation. Our friendly and knowledgeable staff is ready to answer your questions and design a personalized treatment plan to help you achieve your body goals.
Directions to Emsculpt NEO near Gastonia
Shape Med Centers
7810 Ballantyne Commons Parkway, Suite 120
Charlotte, NC 28277
1-704-525-9772
Operating Hours
Mon – Fri, 9 am = 5 pm | Saturdays by Appt Only

Book Emsculpt NEO near Gastonia
Request a FREE Consult with an Emsculpt NEO Tech in Charlotte, NC and receive $1,000 Off.  Emsculpt NEO Treatment Package including Abs, Love Handles, Buttocks, Arms, Thighs and Calves!  Request an appointment or call us at (704) 525-9772