Home > Emsculpt NEO Treatment Areas > Emsculpt NEO for Buttocks
Emsculpt NEO for your Buttocks
Buy 3 Sessions, Get 1 FREE! This Month Only!
Click picture above for Slide Show of Emsculpt NEO Buttocks Treatment
How does Emsculpt NEO build muscle in the Glutes?
Our Emsculpt NEO at Shape Med Centers is designed to work uniquely based on the body part we are shaping.  In the Glutes or Buttocks section in the interface the amount of fat destroyed is actually turned down and the HIFEM muscle stimulation is significantly increased.  This increase of over 20,000 high intensity butt crunches or squats actually increases the muscle in the glutes and lifts them.  The goal with our Buttock Treatment is to lift the glutes and give you that booty that you desire.
Will Emsculpt NEO remove fat in my glutes like other parts?
No, one of the great features of this treatment is that the Emsculpt NEO knows which body part we are "reshaping" and will turn up or turn down the RF or HIFEM based on that body part.  Most people don't want to remove fat from the buttocks, they just want to have "lift" and strength in those muscles.  The Emsculpt NEO treatment on the glutes will give you just that, as the fat destroying area of the treatment is turned off and the muscle increase is turned up.
What position am I in when I treat with Emsculpt NEO?
To treat your glutes (buttocks) with Emsculpt NEO at Shape Med Centers you will be lying on your stomach.  It's a very relaxing treatment and you can watch TV, read a book or even be on your phone during the treatment.  We have 2 paddles attached, one on each cheek, so the total treatment time is just 30 minutes.
Will Emsculpt NEO remove cellulite from my buttocks?
Does Emsculpt NEO at Shape Med Centers get rid of cellulite? Although it can help you lose stubborn fat,

 

it does not treat cellulite itself. It is not designed to treat cellulite but can build muscle and reduce fat in certain areas, giving the illusion that cellulite has been reduced.

Free Emsculpt NEO Arms Consult
Request a FREE Consult with an Emsculpt NEO Tech and save as much as 25% off a Mullt-Treatment Package.  That's Four Emsculpt Treatments for the price of Three!  Request an appointment or call us at (704) 525-9772
Helps make these worth it
Emsculpt NEO Women's Buttocks Before and After Photos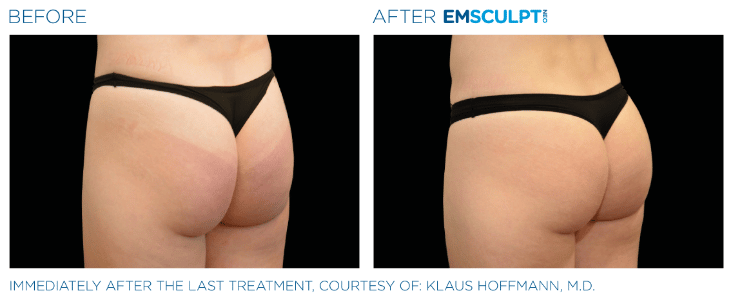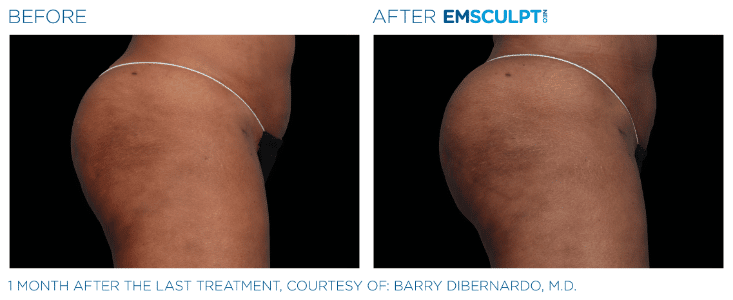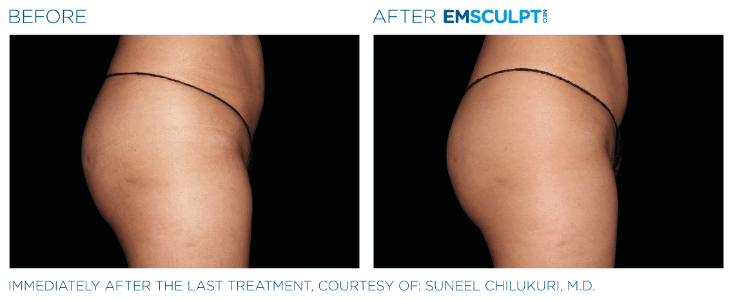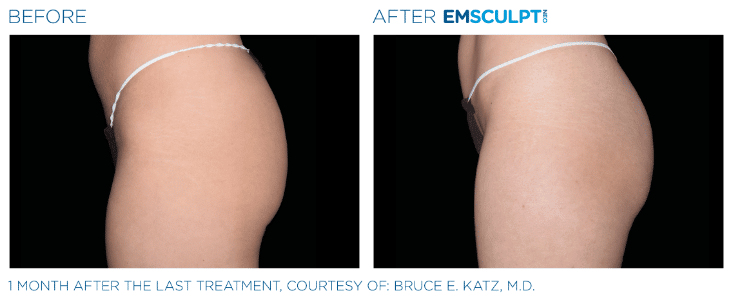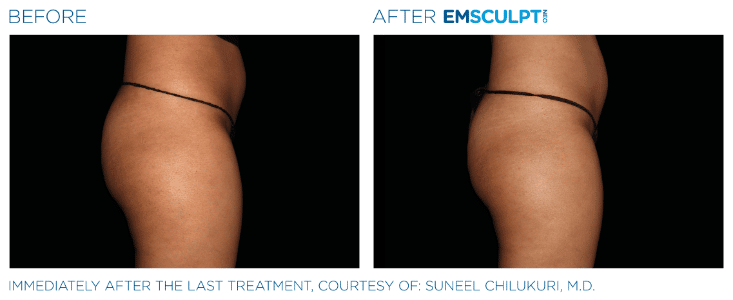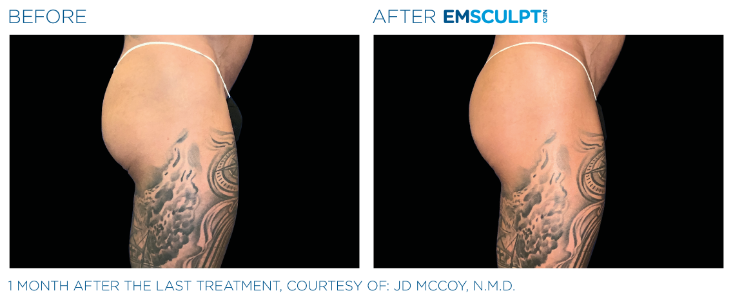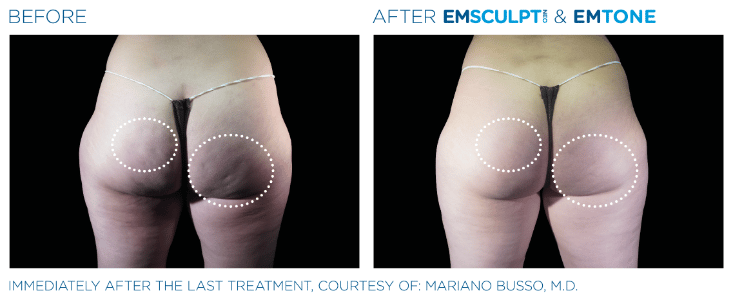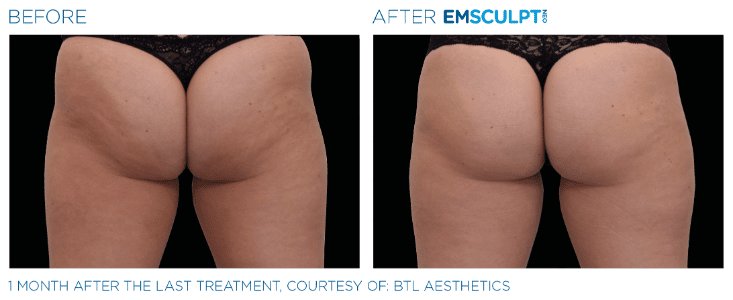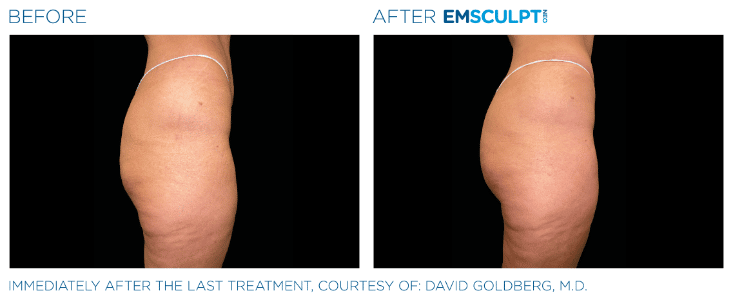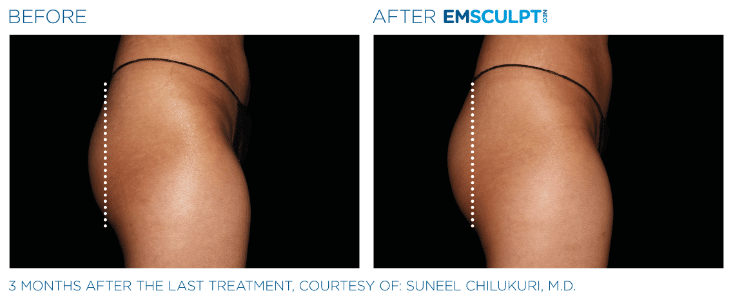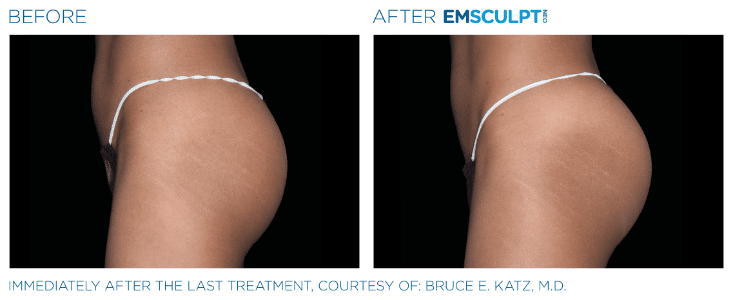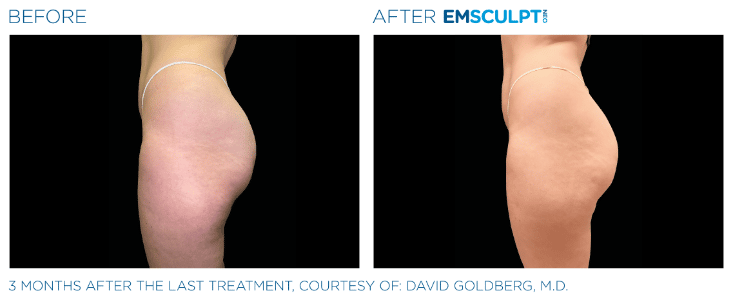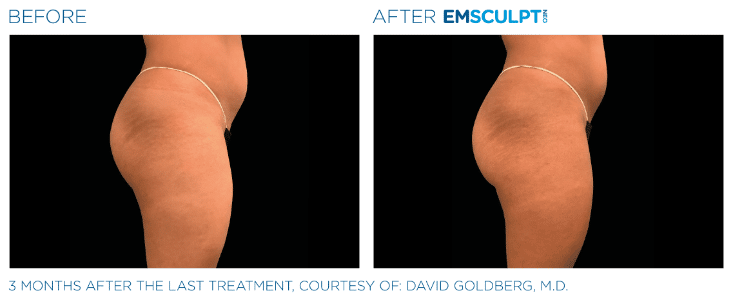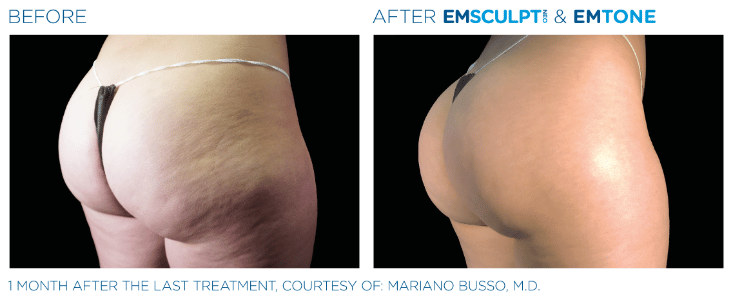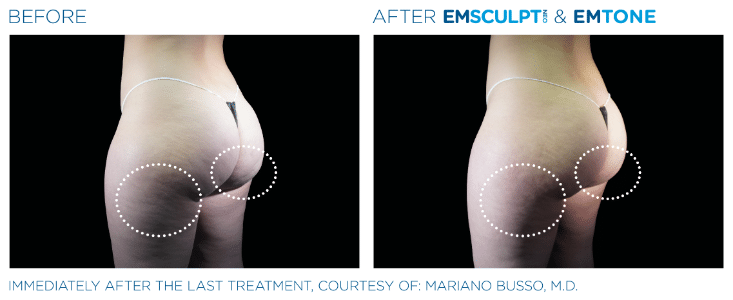 Special Offer to New Patients
Buy Three Treatments, Get Fourth Treatment FREE
Mention website promo when booking
More Emsculpt NEO Buttocks Questions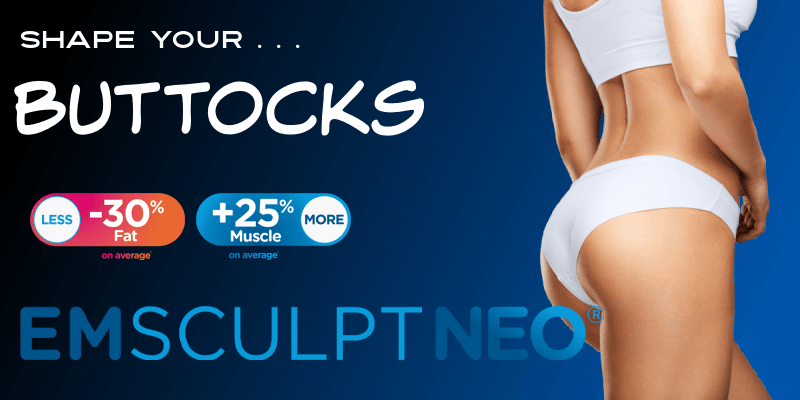 Is Emsculpt NEO worth it for the buttocks?
Our patients seem to think so! Yes, the buttocks (glutes) are one of the most popular areas to treat with Emsculpt NEO at Shape Med Centers. Because the device works differently on different areas of the body, the glute treatment is very unique to that area.
Does Emsculpt NEO remove fat from the buttocks?
Very little fat is removed from the buttocks with the Emsculpt NEO treatment at Shape Med Centers. Most patients are looking for a "lift" in the buttocks and that "lift" comes from increasing the muscle tone in the glutes. The HIFEM (high intensity focused electromagnetic energy) is primarily utilized in this treatment and simulates up to 20,000 squats for the patient.
Does Emsculpt NEO on the buttocks make you sore?
No, our Emsculpt NEO device at Shape Med Centers has a feature that helps the body remove the lactic acid during treatment. By allowing the body to remove that lactic acid during treatment you minimize post treatment soreness. Other than a little tingling the night of your treatment, there is very little soreness associated with Emsculpt NEO.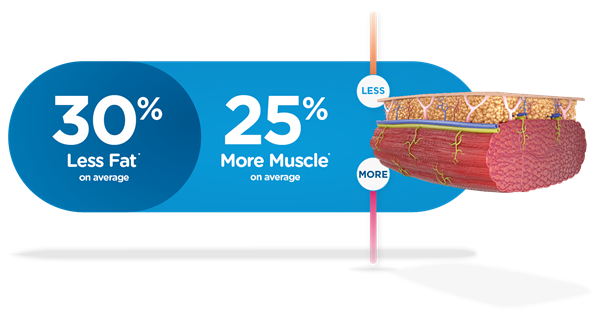 2 Treatments in 30 Minutes
Emsculpt NEO uses the heat from Radio Frequency Technology (RF) and muscle stimulation from High Intensity Focused Electro Magnetic energy (HI-FEM) to reduce fat by as much as 30% and increase muscles by 25. (on average)
Emsculpt NEO Buttocks Applicators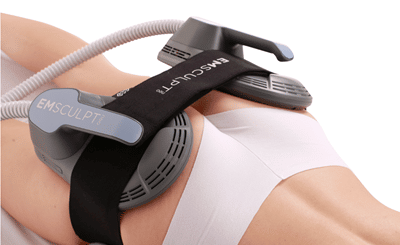 Emsculpt NEO Buttocks Applicator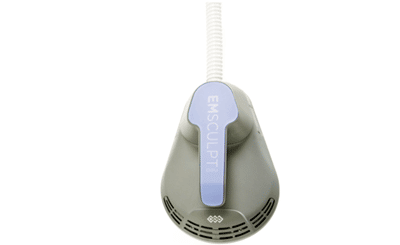 Emsculpt NEO Buttocks Applicator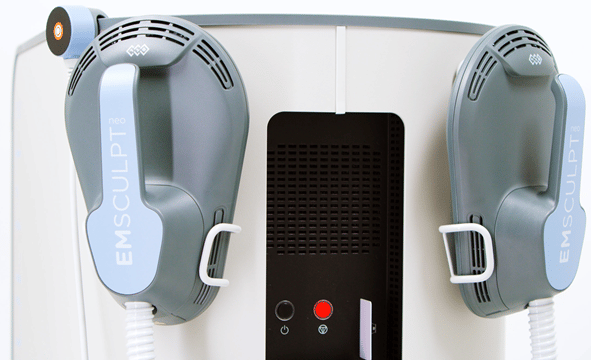 Emsculpt NEO with Paddles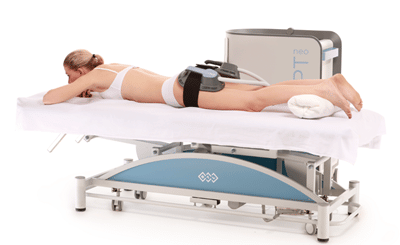 Emsculpt NEO Buttocks Treatment
Emsculpt NEO Lateral Abs Videos
How Emsculpt NEO works on the Abs
Dr. Stephanie Ng answers questions about Emsculpt NEO
GlamLab Review with Dr. Howard Sobel
Emsculpt Before & After Pics