Home > Emsculpt NEO Treatment Areas > Emsculpt NEO for Biceps and Triceps
Emsculpt NEO for you Arms and Emsculpt NEO for Biceps and Triceps
Buy 3 Sessions, Get 1 FREE! This Month Only!
Click picture above for Slide Show of Emsculpt NEO Arms Treatment
What results can I expect for my arms?
The beauty of the Emsculpt NEO treatment at Shape Med Centers of arms is that we do both the tricep (bat wings) AND the biceps, giving you a global treatment on your arms. What you will notice is more toning, fat loss and smoother definition on the arms. The goal is to try to decrease the "sag" under the arm and give you more bicep definition on the top.
How long until I see final results on my arms?
Every patient is different in seeing results. Most people will start to see small improvements in definition and toning on the arms after just the first few treatments, but final results will be approximately 8-12 weeks after your last treatment with Shape Med Centers. We make sure to take detailed before and after pictures for you so you can see your results.
Will my arms be sore after the treatment?
Most patients report that there is no soreness after the treatment. Some experience tingling the evening after their treatment, but other than that, there is no soreness with the Emsculpt NEO procedure at Shape Med Centers.
How long do Emsculpt NEO results last for the arms?
The reduction of the fat layer is a permanent result and as long as you don't gain weight or "balloon up" the existing fat cells in the arms you will keep those results forever. In regards to the HIFEM (high intensity focused electromagnetic energy) that increases a tones the muscle you will need to come in for periodic maintenance to keep that muscle definition. At Shape Med Centers we have discounted maintenance packages that make additional treatments extremely affordable for our past clients.

Free Emsculpt NEO Arms Consult
Request a FREE Consult with an Emsculpt NEO Tech and save as much as 25% off a Mullt-Treatment Package. That's Four Emsculpt Treatments for the price of Three! Request an appointment or call us at (704) 525-9772
Helps make these worth it
Emsculpt NEO Arms Women's Before and After Photos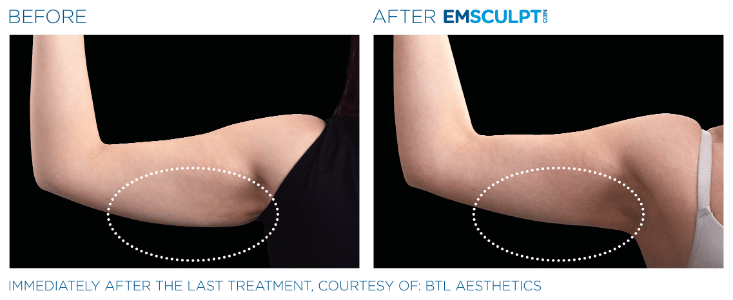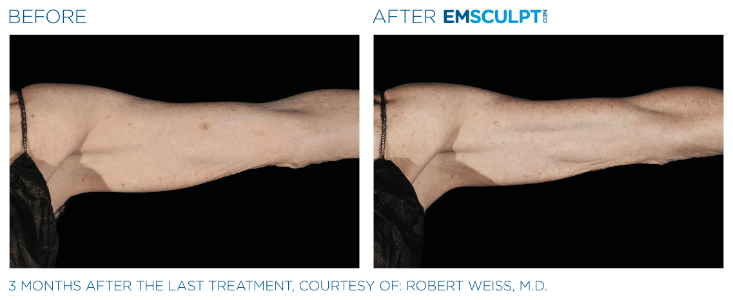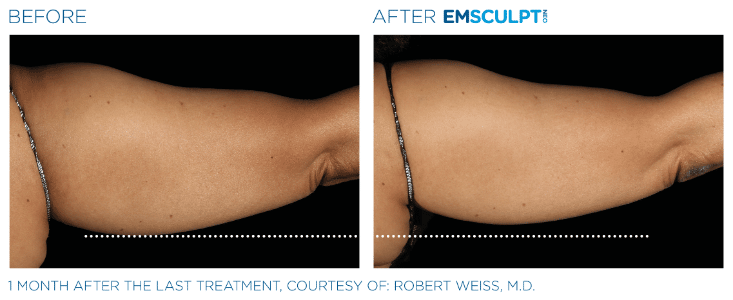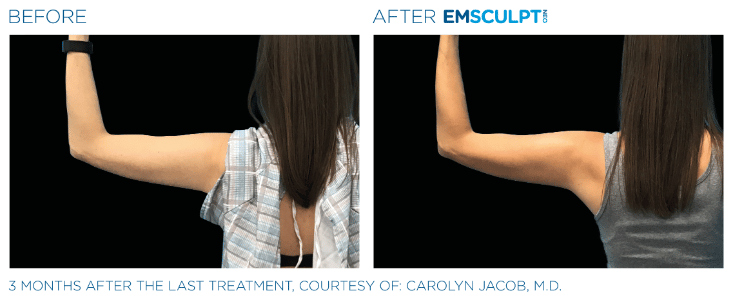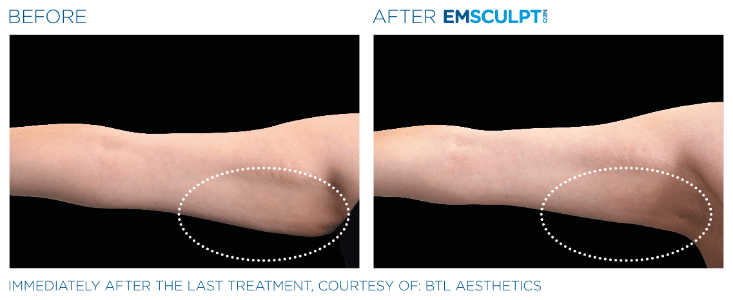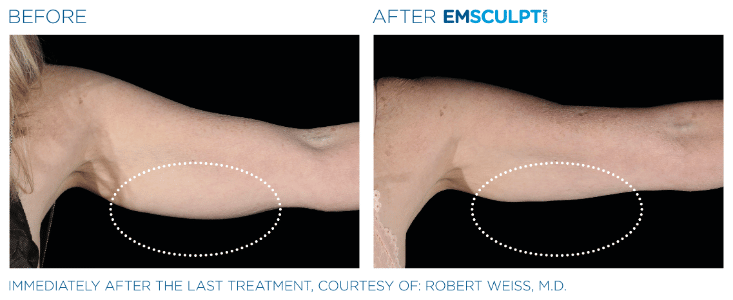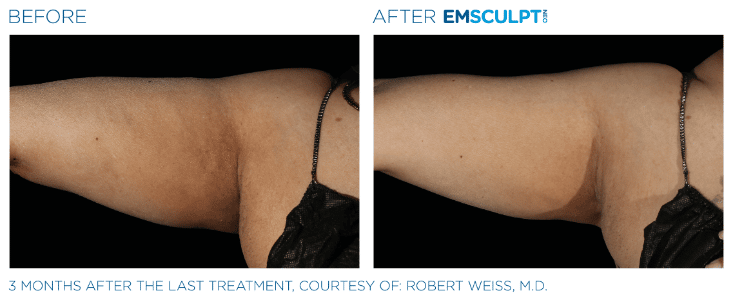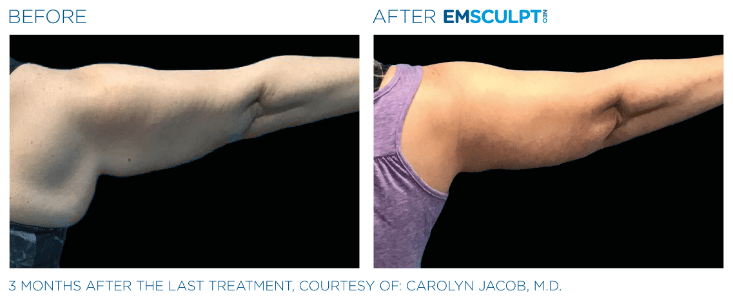 Emsculpt NEO for the Arms Men's Before and After Photos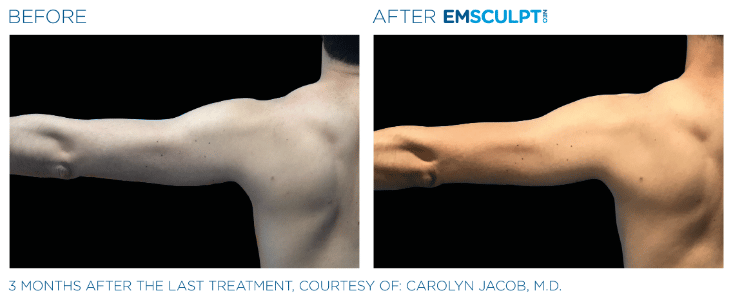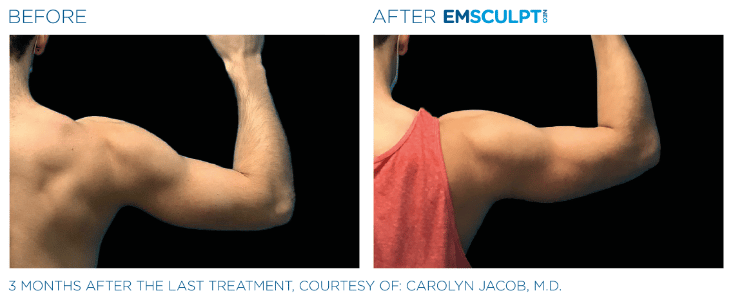 Special Offer to New Patients
Buy Three Treatments, Get Fourth Treatment FREE
Mention website promo when booking
More Emsculpt NEO Arms Questions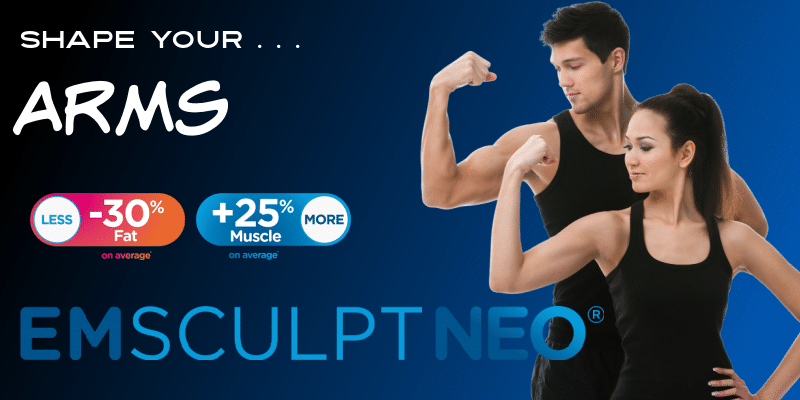 Does Emsculpt NEO work on the arms?
Emsculpt NEO at Shape Med Centers is FDA Approved for both the biceps and the triceps. We treat both during your arms treatment and have had wonderful success with our patients. By treating both the biceps and the triceps we remove fat from under the arm and increase muscle mass and tone on both the top and bottom.
How much does Emsculpt NEO cost for the arms?
Because we do have to treat both the biceps and the triceps the cost for the arms is a bit more than treating other parts of the body. Instead of a normal 4 treatments, we need to increase that to 8 for the arms. Shape Med Centers has package pricing that is very affordable for our patients. Call our office directly at 704-525-9772 or request a consult online here for special pricing options.
Does Emsculpt NEO work on flabby arms?
Emsculpt NEO at Shape Med Centers removes up to 30% of the fat under the arms during your treatments. In addition we also use HIFEM (high intensity focused electromagnetic energy) to tone and strengthen the muscle underneath. That combination reduces that flabby look pretty significantly. Please note that Emsculpt NEO does not specifically tighten the skin. Your EM Tech at Shape Med Centers will do a full body assessment on you during your consultation and will recommend treatment if they think it will help you.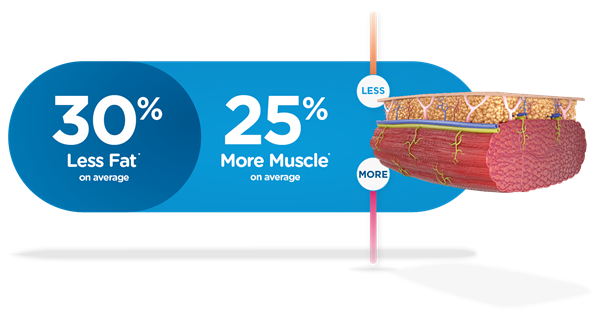 2 Treatments in 30 Minutes
Emsculpt NEO uses the heat from Radio Frequency Technology (RF) and muscle stimulation from High Intensity Focused Electro Magnetic energy (HI-FEM) to reduce fat by as much as 30% and increase muscles by 25. (on average)
Typical Emsculpt Lateral Abdomen Applicators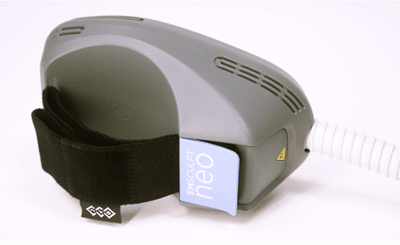 Emsculpt NEO Arm Applicator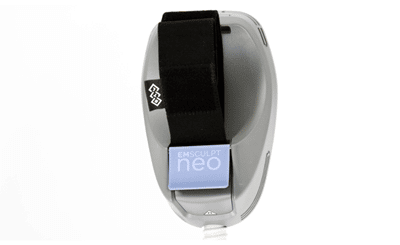 Emsculpt NEO Arm Applicator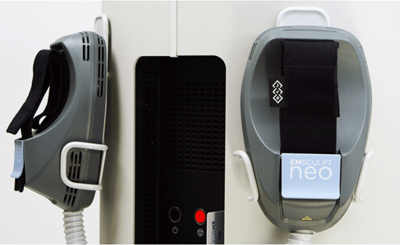 Emsculpt NEO Arm Applicator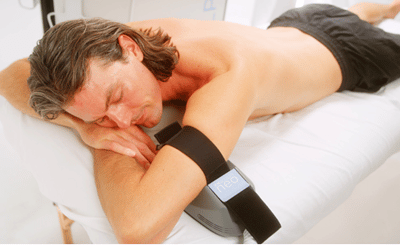 Emsculpt NEO Arms Treatment
Emsculpt NEO Lateral Abs Videos
How Emsculpt NEO works on the Abs
Dr. Stephanie Ng answers questions about Emsculpt NEO
GlamLab Review with Dr. Howard Sobel
Emsculpt Before & After Pics