Home > Emsculpt NEO in Rock Hill, SC
Emsculpt NEO and Body Sculpting and Contouring
in Rock Hill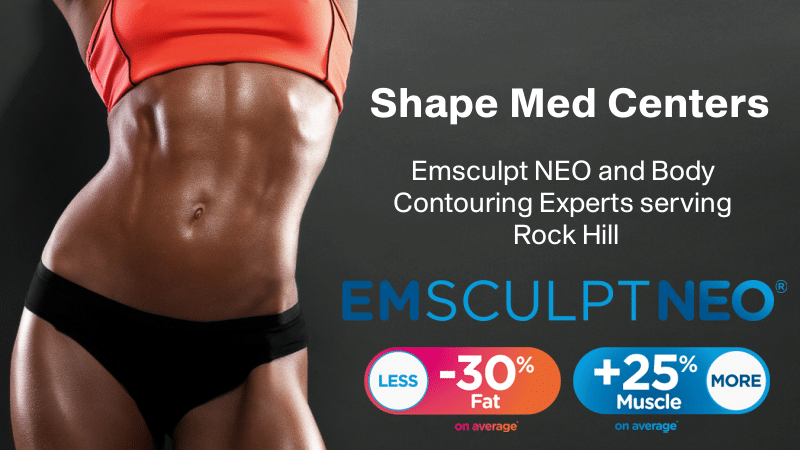 Buy 3 Sessions, Get 1 FREE! This Month Only!
Welcome to Shape Med Centers – your premier destination for Emsculpt NEO and body sculpting and contouring in Rock Hill. We understand that achieving your ideal body shape is a journey, and we're here to make it an enjoyable and effective one.
Why Choose Emsculpt NEO at Shape Med Centers?
At Shape Med Centers, we prioritize your comfort, safety, and satisfaction. Here's why Emsculpt NEO is the go-to choice for body contouring in Rock Hill:
1.  Non-Invasive Excellence:
Emsculpt NEO is a non-invasive FDA-approved treatment that eliminates the need for surgery or downtime. You can enhance your physique without any incisions or recovery periods.
2. Muscle Building and Fat Reduction:
Emsculpt NEO is a groundbreaking technology that simultaneously builds muscle and reduces fat. It's the perfect solution for sculpting your body and achieving a more toned appearance.
3. Quick and Convenient:
With Emsculpt NEO, you can achieve noticeable results in just a few short sessions. The treatments are quick and convenient, fitting seamlessly into your busy schedule.
4.  Personalized Approach:
Our expert team at Shape Med Centers customizes each treatment plan to suit your unique body and goals. We believe that one size doesn't fit all when it comes to body contouring.
Our Expert Team for Body Contouring in Rock Hill
Shape Med Centers is proud to have a team of experienced and skilled professionals dedicated to helping you transform your body. We have a passion for aesthetics and a commitment to providing you with the best care possible. Our team will guide you through the entire Emsculpt NEO process, ensuring you're comfortable and informed every step of the way.
What Sets Emsculpt NEO Apart for Body Sculpting?
Emsculpt NEO is a revolutionary advancement in body contouring technology. It uses high-intensity focused electromagnetic (HIFEM) energy to stimulate muscle contractions and destroy fat cells. Here's why it stands out:
Dual Technology:
Emsculpt NEO combines radiofrequency technology with HIFEM, allowing it to target both muscle and fat simultaneously, leading to more comprehensive results.
Safety and Effectiveness:
With FDA approval, Emsculpt NEO is proven to be safe and effective for body contouring. It's a trusted option for achieving the body you desire.
No Downtime:
Unlike surgical procedures, Emsculpt NEO requires no downtime. You can return to your daily activities immediately after each session.
Lasting Results:
Emsculpt NEO not only delivers immediate results but also continues to improve over time. Your body will continue to benefit from increased muscle and reduced fat for several weeks post-treatment.
Experience the Future of Body Contouring in Rock Hill with Emsculpt NEO at Shape Med Centers
Are you ready to take the next step towards your dream body? Contact Shape Med Centers in Rock Hill today to schedule your Emsculpt NEO consultation. Our team is excited to help you on your journey to a more confident you.
Directions to Emsculpt NEO near Rock Hill
Shape Med Centers
7810 Ballantyne Commons Parkway, Suite 120
Charlotte, NC 28277
1-704-525-9772
Operating Hours
Mon – Fri, 9 am – 5 pm | Saturdays by Appt Only

Book Emsculpt NEO Rock Hill
Request a FREE Consult with an Emsculpt NEO Tech in Charlotte, NC and receive $1,000 Off.  Emsculpt NEO Treatment Package including Abs, Love Handles, Buttocks, Arms, Thighs and Calves!  Request an appointment or call us at (704) 525-9772